Liniar uPVC Tilt and Turn Windows
Innovative window functionality infused with an energy efficient design
Liniar uPVC tilt and turn windows from Pearl Trade are synonymous with energy efficiency, impressively rivalling most other aluminium systems in terms of thermal retention ability. Engineered using high performance uPVC that ensures the window will never rot or rust with only minimal maintenance required, their dual functionality is a welcome aspect for both residential and commercial applications.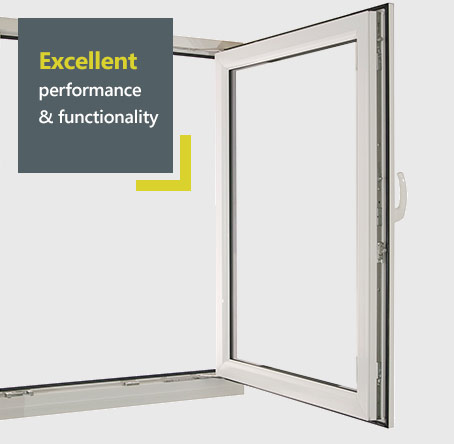 Liniar uPVC Tilt and Turn Window Specification
Proving that uPVC has significantly advanced, this system boasts energy efficiency, ease of maintenance and a range of optional stylistic details.
Slim sightlines for maximum light penetration
Open slightly to allow for normal ventilation or fully for maximum ventilation
Profile will not rust or rot and only minimal upkeep is required
Capable of achieving an A+ energy rating
Available in chamfered (bevelled) or sculptured (curved) 6 chamber and 4 chamber profiles
Available with 28mm double glazing or 36mm triple glazing both with low U-values
Downloads:
Download Liniar Brochure
Download Liniar Windows Fact Sheet
Download Liniar Window Installation Guide
Secure ventilation with various customisation options
When in their 'tilt' position, Liniar uPVC tilt and turn windows can securely ventilate properties without leaving them vulnerable to either intruders or the elements, widening just enough to let welcome air inside. Thanks to smartly integrated high security locking furniture, in both 'tilt before turn' and 'turn before tilt' configurations, you'll be able to offer end users the latest in protection that's even ideal for high-rise as well as low-rise applications.
All uPVC Liniar frames come supplied entirely lead-free, constructed using the latest machinery and technology by our in-house team here at Pearl Trade. This, along with the fact that the system is guaranteed for 10 years against colouration, warping, and cracking gives installers a suite of selling points to offer in prder to rival competitors and stand out from the crowd.
Readily configurable to suit a range of applications
Depending on the required project specifications, Liniar uPVC tilt and turn windows can be manufactured and supplied in either chamfered or sculptured profile styles. Installers also have the ability to maximise energy efficiency further by offering end users the unique 6 chamber Liniar tilt and turn variant, increasing heat retention to achieve A+ level window energy ratings.