Rehau uPVC Tilt and Turn Windows
Innovative opening action in a choice of two uPVC systems
All Rehau uPVC Tilt and Turn Windows supplied and manufactured by the Pearl Trade team come engineered using both TOTAL70 and Geneo window systems, resulting in some stunning aesthetics that stays low maintenance for the modern homeowner. Each unit functions seamlessly by titling inwards as well as to the side as expected, letting you offer a product with a multitude of advantages.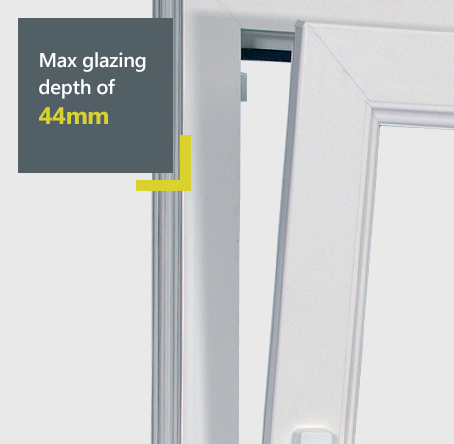 Rehau uPVC Tilt and Turn Window Specification
uPVC, combined with Rehau's cutting edge technology and attention to detail results in the Rehau TOTAL70 and Geneo systems, both comprised of multi-chambered profiles that are designed to meet the requirements of the domestic refurbishment markets.
Inward opening for easier cleaning and ventilation
Concealed gearing for slimmer lines
Designed to accept latest hardware innovations
Allow for effective fire escape
Maximum glazing depth of 44mm
Steel-reinforced frames that meet British standards
Geneo options feature 6-chambered profile for maximum heat retention
7 standard colours available
Downloads:
Download Rehau Windows And Doors Guide
Download Rehau System Guide
Download Rehau Colour Guide
Readily secure and well-ventilating, ideal for high-rise applications
Whether supplied in Total70 or Geneo, our entire selection of Rehau uPVC Tilt and Turn Windows excel in offering exceptional levels of security, thanks to integrated locking and the ability to ventilate properties without the need to reveal the entire aperture. All frames come steel-reinforced for extra rigidity and strength, making them an ideal solution for most high-rise builds and apartments.
The Geneo system has been specifically engineered to skew more for the needs of the commercial market while TOTAL70 is more commonly suited for domestic sectors. We can provide either at an impressively fast turnaround rate without the need to sacrifice quality, letting you complete tilt and turn window installations quicker and with an impressive result.
Wildly energy efficient with easy cleaning and maintenance
Rehau uPVC Tilt and Turn Windows have a good track record in terms of efficiency, known to reduce energy losses by up to a staggering 76%. As a factor that more and more consumers are weary of each day, this is an invaluable sales feature, all made possible due to a multi-chambered profile.