Halo uPVC Tilt and Turn Windows
A fully integrated and versatile uPVC window system
Ideal for those hoping to appeal to homeowners that prioritise easy cleaning and low maintenance, Halo uPVC tilt and turn windows specialise in offering seamless two-way opening within a wholly reliable system. The product of specialist engineering and high quality workmanship, they look great and perform well in any of the 18 available foiled options. p>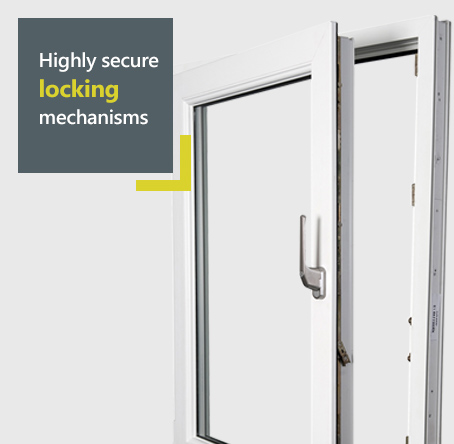 Halo uPVC Tilt and Turn Window Specification
With a choice of beading options, which are quick, secure and easy to install on the job, and a breadth of other innovative features designed to save you on installation time – Halo uPVC windows are swift yet efficient.
Two-way operation: 1 offers ventilation, the other easy cleaning
Child safe restrictors and safe locking handles
Open inwards to the room – suitable for a range of applications
Designed for quick, hassle-free fitting
Multi-chamber design for energy efficiency
Wide range of colour options for all tastes
Windows tested to BS7950
Downloads:
Download Halo Rustique Features Guide
Download Halo System 10 Features Guide
Modern style, modern function, modern efficiency
Available in either 70mm or 62mm profile, Halo uPVC tilt and turn windows from Pearl Trade can be fitted to easily match the slim sightlines and clean edges often found within aluminium systems. This inherent modernity adds to the natural low maintenance sensibilities of uPVC, meaning you'll be able to offer a product that perfectly suits the busy lives of 21st century homeowners.
Multi-chambered internal frames make light work of trapping natural heat generated in any home, saving on energy costs and boosting efficiency, and ventilation is easily controlled thanks to the style's dual functionality. A simple tilt of the sash inwards assures that a natural breeze can enter, yet when fully shut, Halo uPVC tilt and turn windows are weathertight.
Secure and easy to install on site
Capable of accepting sealed unit widths of 24mm. 28mm, and 32mm, every uPVC profile can be fitted with a choice of beads in either a chamfered or ovolo shaped design. Such configurability gives you greater control of how much time you spend on site, letting you maximise profit margins while never compromising on quality.